Difficulty: Easy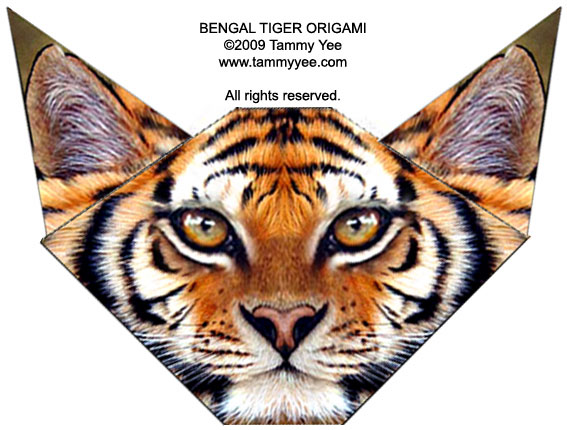 Instructions:
1. Print and cut out image along outer solid lines.


2. Fold back along diagonal line.


3. Turn your origami over, so that the printed side faces down.




4a. Fold down on diagonal line as shown.
4b. Repeat on other side.




5a. Fold ear up as shown.
5b. Repeat on other side.



6a. Turn origami over with printed side up. Fold back white "tip" on top of cat's head.
6b. Repeat with the white corner on cat's chin.
6c. Now your cat is pau! (done)!

Print your Tiger Origami
Get more cat origami patterns here:
Jaguar Origami
Spooky Black Cat
Happy Black Cat
White Cat
Orange Cat
©2009 Tammy Yee. All rights reserved. May not be reproduced or altered without written consent.

Add Post To: | Digg| Technorati| Tip'd| del.icio.us| Stumbleupon| Reddit| BlinkList| Furl| Spurl| Yahoo| Simpy|