Directions:
1a. Print your origami:
Snowy Owl
or
Hawaiian Short-eared Owl (Pueo)
.
1b. Cut out image along outer solid lines.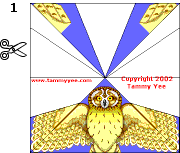 2a. Fold in half along diagonal line. Unfold.
2b. Repeat the diagonal fold on other side. Unfold.
2c. Fold down along horizontal line. Unfold.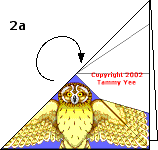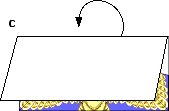 2d. Your origami should be creased as shown.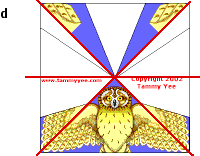 3. Carefully fold along creases, forming a "tent" as illustrated.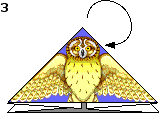 4a.
Turn origami over
.
4b. & c. Fold diagonally on both sides, as illustrated.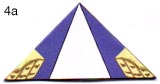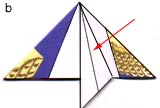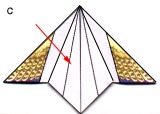 5a. & b. Form tail by folding diagonally on both sides, as illustrated.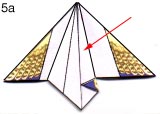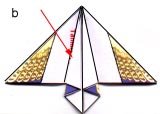 Turn over. You can leave your owl's wings open or you may fold the wings as shown.
Your owl is ready to fly!


From the Award-Winning Children's Book
Lullaby Moon
Written by Elaine Masters
Illustrated by Tammy Yee
Island Heritage, 2002
ISBN: 0-89610-495-8
A dreamy adventure about Koa, a little Hawaiian boy who would rather play outside than fall asleep. Koa soon finds himself befriended by an owl, or Pueo, who takes him on a magical exploration of the island's wildlife. Under the watchful gaze of Lullaby Moon, Koa learns how bats, bees and green sea turtles spend their night. With boldly illustrated lift-a-flaps and a musical CD by Malia Elliot, of the popular performing and songwriting duo, Leon & Malia.

More information...
Copyright ©2009 Tammy Yee. All rights reserved.
No portion of this website may be reproduced without the prior written consent of the author.

Add Post To: | Digg| Technorati| Tip'd| del.icio.us| Stumbleupon| Reddit| BlinkList| Furl| Spurl| Yahoo| Simpy|