The iris is the official state flower for Tennessee, and the official state wildflower for Louisiana (Louisiana iris) and Michigan (dwarf lake iris).
In
Japan
, the Iris Festival (Shobu no Sekku) is held each May in honor of this symbolic flower, the long leaves of which resemble the sharp blades of a sword. For centuries it was customary to place iris leaves in a boy's bath to give him a martial spirit.
There more than 200 species of iris around the world, and although we often think of irises as brilliant purple flowers, they in fact come in a variety of colors. In fact, the name "iris" comes from the Greek word for rainbow.

Difficulty: Easy to Moderate
Directions:
1a.
Print
and cut out iris origami along outer solid lines.
1b. Fold along diagonal line A as shown.
1c. Fold in half again, along vertical line marked in red.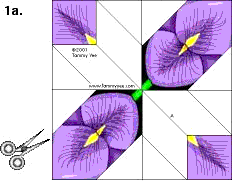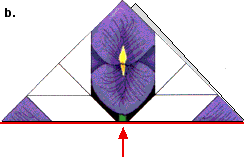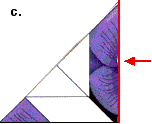 2a. Note diagonal line, marked in red.
2b. Fold
up
along diagonal line.
2c.
Unfold.

3a, b & c. Carefully open upper "flap" along creases to form a diamond, as shown.

4a.
Repeat steps 2 and 3 on the reverse side
, so that both sides resemble diamonds.
4b & c. Fold along the red lines so that the corners meet at the center, as shown.

5a. Fold along red lines,
5b. toward the center so that your origami appears as shown. Repeat on the reverse side.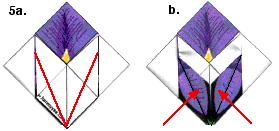 6. Fold right side of origami over so that the picture of the large flower petals is showing. Repeat on reverse side.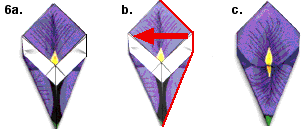 7. Fold inner petals down as shown.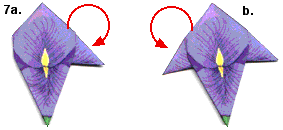 ©2010 Tammy Yee
All rights reserved.

Add Post To: | Digg| Technorati| Tip'd| del.icio.us| Stumbleupon| Reddit| BlinkList| Furl| Spurl| Yahoo| Simpy|