Granular Poison Dart Frog, Costa Rica, by Sean Crane
The vibrant colors of these tiny frogs is a clear signal: Predators Beware!
Found in the hot and humid rainforests of Central and Latin America, these frogs have been used for centuries by Amerindian tribes in Columbia to coat the tips of blowgun darts and arrows. A steady diet of toxic insects, such as ants, is what makes these frogs lethal.
Some, like the Golden Poison Dart (or Arrow) Frog, are so deadly that the poison from a single frog, entering through cuts or contact with the mouth, can kill ten people!
There are more than 100 species of poison dart frogs. An inch to two and a half inches long, these dynamos hunt for spiders, ants and termites on the forest floor. When it is time to mate, the male attracts a female with a chorus of shrill chirps. After mating, the female lays her eggs, which are coated in thick gelatin to prevent them from drying out, on moist leaves.
When the eggs hatch, the male will carry his clutch of tadpoles down from the trees and deposit them into a small pond or the water-filled center of a bromeliad. There the tadpoles will remain until they're ready to sprout legs and morph into little frogs, ready to hop away on their own. Sometimes the female will return to feed her youngsters with unfertilized eggs.
Dad with his back full of tadpoles:
Print and fold an
Origami Poison Dart Frog
: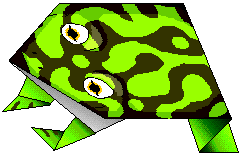 Some really cool photos of poison dart frogs:


©2009 Tammy Yee
All rights reserved.

Add Post To: | Digg| Technorati| Tip'd| del.icio.us| Stumbleupon| Reddit| BlinkList| Furl| Spurl| Yahoo| Simpy|