Print and Fold an Origami Christmas Tree for the Holidays!
Difficulty: Easy to Moderate

Directions:
Print
Christmas Tree Origami.
1a. Cut out image along outer solid lines.
1b. Turn over so that printed side is facing down.
2a. Fold corners down along diagonal lines labeled "A".
2b. Fold down on diagonal lines labeled "B" as shown.
2c. Fold tree trunk up along line "C",
2d. Then down along "D".
3a. Fold along vertical line "E".
3b. Unfold and carefully form a "tent" along the diagonal lines as shown.
3c. Repeat on the other side, folding along vertical line "F",
3d. And folding a "tent" to form the tree trunk.
Your Christmas Tree is pau (finished)! Merry Christmas!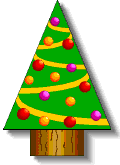 ©2009 Tammy Yee
All rights reserved.

Add Post To: | Digg| Technorati| Tip'd| del.icio.us| Stumbleupon| Reddit| BlinkList| Furl| Spurl| Yahoo| Simpy|