Imagine a world where factories dumped toxic waste into streams and lakes, or chug poisonous black fumes into the air, and there was little you could do to stop them. That's what it was like before 1970.
That is, until the Spring of 1970, when Senator Gaylord Nelson created Earth Day as a way to increase awareness of our environment, and measures needed to create a cleaner, safer world. 20 million Americans demonstrated across the United States, and in December 1970, Congress authorized the creation of the U.S. Environmental Protection Agency (EPA).
Since 2010 is the Year of the Tiger in Chinese astrology, how about indulging in Tiger-themed origami for Earth Day?
Tiger Lilies
These brightly colored flowers can be found in open woods and forest openings throughout western North America, from British Columbia to California, and Idaho to Nevada. Tiger lilies are edible, and can be used as cake decorations. Native Americans boiled or steamed the bulbs, and Chinese planted lilies in rows for food. And who can forget the character Tiger Lily in Peter Pan, the Piccaninny princess of Neverland, who was kidnapped by Captain Hook?

Print and fold a Tiger Lily:
Vanishing Tigers
As the largest living cat, adult male tigers can weigh as much as 700 pounds and eat 80 pounds of meat in a single sitting.

Now these majestic animals are threatened with extinction.

For thousands of years, they have been hunted as status symbols and their bones have been used in traditional Asian medicines.

Today they must also face habitat loss, as humans move into their dwindling range and compete for food and resources.

Print and fold a tiger: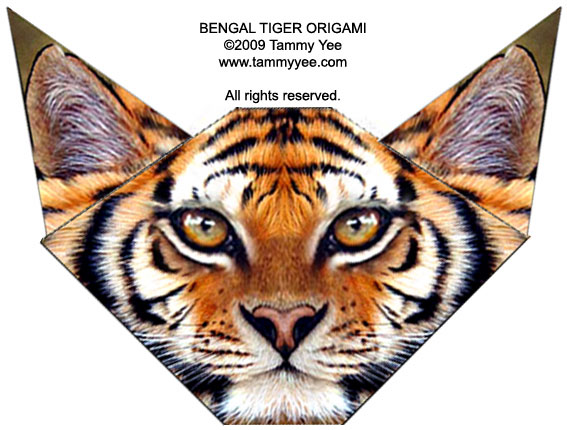 Tiger Swallowtail Butterfly
The Western Tiger Swallowtail is a commonly found in western North America, from British Columbia to North Dakota in the north to Baja California and New Mexico in the south.

The Eastern Tiger Swallowtail, found throughout the Eastern United States as far north as southern Vermont and west to Eastern Colorado, is the official state butterfly of Alabama, Delaware, Georgia, South Carolina and Virginia.

Butterflies emerge from their chrysalis in February to May, gathering near pools and streams where they drink and replenish minerals.

Print and fold a Tiger Swallowtail Origami:
Year of the Tiger in Chinese Astrology
If you were born in 1938, 1950, 1962, 1974, 1986, 1998 or 2010, you're a tiger! (I am, but I'm not revealing which year.) Want to know what Tiger people are like? Here's a sampling:

"You have an active and creative mind with great ideas for some new activity. You do not like to be tied down by rules or by directives from others. A natural leader born under the sign of courage, you seldom seek others for support as you like to execute a certain amount of independence. You like to be free and do as you please."

Want to learn more? Click here.
Happy Earth Day 2010!
©2010 Tammy Yee
All rights reserved

Add Post To: | Digg| Technorati| Tip'd| del.icio.us| Stumbleupon| Reddit| BlinkList| Furl| Spurl| Yahoo| Simpy|